We have put together valentine gift ideas for LGBTQ Community as it's nearly the 14 February which means one thing …
It's almost VALENTINES DAY! 
Have you got your partner a gift yet? No? Don't worry, we've got it covered.
At the Pride Events HQ, we have been shopping around and found some great last minute valentine gift ideas for LGBTQ Community make your Valentines Day the most loving it can be!
(Plus, don't worry, the majority are from Amazon and with Prime Delivery they are bound to deliver before the 14th… WIN WIN!)
Check them out below …
PS. There's a cheeky surprise at Number 10!
1. Cute Stainless Steel Rainbow Heart Matching Dog Tag Necklace
This is a perfect gift for Valentine's day! Show your loved one that you will always be connected and together wherever you are with this cute matching rainbow heart necklace.
Unisex gift
Quality Stainless Steel
Romantic and love design
All year round usage and not just valentines day specific
2. Lickalottapus Lesbian Tea of Coffee Mug
Now, this is more of for someone who loves a laugh and to have some fun on Valentines Day giving their present.
This Lickalottapus mug is a great present for anyone who loves to lick, loves a laugh …. or just loves dinosaurs! 
Perfect for lesbians, bisexuals or anyone that enjoys a good lick!
Funny gift
All year round usage and not just valentines day specific
3. Cute Gay Connecting Key Rings
These are a perfect gift for any gay couple!
A pair of cute gay puzzle connecting key rings with "His Weirdo" and "His Crazy" engraved on them.
Ideal for any gay couple who love to share a connection in every possible way.
Perfect gay couple gift
Simple but loving message
All year round usage and not just valentines day specific
4. Watercolour Rainbow Heart Love Print
This is lovely! Very unique and guaranteed to touch the heart of your partner.
This watercolour rainbow heart print can be personalised, adding that extra touch and thought into the Valentines Day gift.
The print shows two rainbow coloured hearts intertwined with text in the centre reading 'Love is Love'. It can also include your names or a personal message.
Unisex gift
Unique and personalised
Sign of love and two hearts connecting
All year round usage and not just valentines day specific
5. Cadbury Valentine Treasure Box
This is a WIN WIN present for ANYONE! Guaranteed! Who doesn't like chocolate?
Grab yourself this Cadbury Valentine Treasure Box, with personalised chocolate bars saying "I love you", as well as a wide selection of all the Cadbury favorites such as Roses and Flake!
Unisex gift
Chocolate is always a winner!!
Sharing is caring … you might end up with some chocolate too!
6. White Teddy Bear holding Red Heart with message saying "I Love You"
Valentines day isn't complete without an "I Love You" teddy bear. True?
This adorable white bear will pull at the heart strings of many and is a perfect gift for Valentines Day 2020.
It comes in all different sizes too! Remember, the bigger the better …
Unisex gift
Available in all different sizes
For all year round, not just for Valentines Day
7. Gomyhom Red and Gold Rose
This has to be my personal favorite.
This beautiful Gomyhom Rose is a perfect traditional gift for your partner this Valentines Day.
Traditionally an iconic symbol of Valentines day, Roses still remain at the heart of all things love and affection.
And, you don't have to worry about watering this one … WINNER!
Unisex gift
Traditional Valentines day present
Delivered in a lovely box to add to the Valentines day mood
8. Large Yankee Candle Selection Bouquet Gift Hamper with Chocolates & Red Roses
Okay, so this gift covers all angles!
We have candles, chocolate AND red roses! YES!
You will definitely tick all the boxes with this gift.
Unisex gift
All the favorites! Candles, chocolates and roses!
Ideal Valentines Day gift
9. Gay Notebook: I'm The Only Gay In The Office
Haha! A perfect gift for any office worker.
Bring a smile to your partners face this Valentines Day and get them this notebook for work, school, college or university.
With 108-wide lined pages and a funky LGBTQIA+ design, this notebook is perfect for all! For more LGBTQIA+ notebooks, check out our online Notebook shop!
For all year round, not just for valentines day
Handy notebook
Funny gift
We promised you a surprise at Number 10 and here it is! **Over 18's Only**
10. Peaches and Screams Adult Toys
Peaches and Screams offer a wide variety of adult toys and bedroom essentials. From lingerie to fetish costumes, they really have it all!
AND, they are running a Valentines Day deal… Check it out!
Spice your Valentines day up and bag yourself a treat with Peaches and Screams.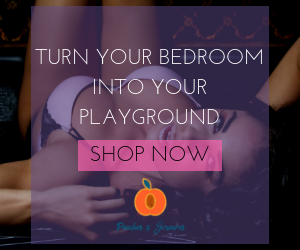 We hope this post gave you some ideas for LGBTQIA+ Valentines Day Gifts for 2020. Comment below and let us know what you bought your partner this year.